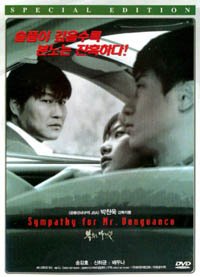 Deaf and dumb Ryu (Shin) is taking care of his sick sister who needs a kidney's transplant in order to survive. Time is running out, there is no compatible donor so Ryu decides to follow a sticker in a public toilet and meets a family who deals in organ traffic. The deal goes wrong and he is forced to find a quick way to get a huge amount of money. With the help of his girlfriend Yeong-mi (Bae), and after reaching the conclusion that there are good and bad kidnappings, he decides to kidnap a child. The target is little Yo-soon, the daughter of wealthy industrial Park Dong-jin (Song).

Park Chan-uk directed Joint Security Area in 2000, a film that portrayed the tense relations between the two Koreas through an investigation on the cause of death of some soldiers in the Demilitarized Zone. The film starred Song Kang-ho (also known from films such as Swiri, The Foul King and No. 3) and Shin Ha-gyun playing North Korean soldiers. They both answered Park's call for his new film but they were now placed in opposite sides.

JSA was a blockbuster in South Korea at a time when the Korean cinema was already fighting Hollywood in the box-office. What had started with Swiri, that snatched the title of most lucrative film ever in that market from Titanic, in 1999, came to extremes when an art house low budget film about a child and her granny (The Way Home) made more money than The Fellowship of the Ring in 2002.

JSA climbed to the top of the box-office on the year of its premiere, overtaking titles such as Mission Impossible 2 and Gladiator, and even surpassing Swiri's previous performance, although it did not keep that status for long — just until the premiere of Friend the following year.

The label "director of Joint Security Area" eventually became an open door for Park Chan-uk, who now could take on any project he wanted and put it on the big screen. It would have obviously been easier and even more economically rewarding to try a JSA 2 or a similar film for that was what everybody was expecting from him. But instead of choosing security and predictability Park decided to take on this Sympathy for Mr. Vengeance, one of his projects from the mid-nineties that until that time he had not been able to finance. However, the word-of-mouth soon spread out that the film was violent, dark and cold and it had nothing to do with JSA. And so, the box-office results turned out to be very disappointing (it did not make it to the 2002 Korean films Top 10).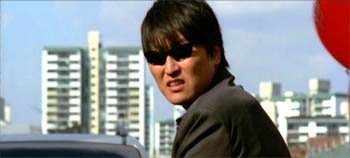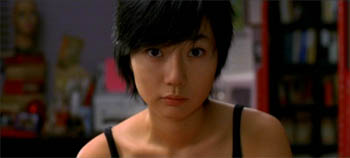 From top to bottom: Song Kang-ho, Shin Ha-gyun and Bae Du-na.

In Sympathy for Mr. Vengeance, it is not possible to name the "good guys" or the "villains" amongst its main characters. One way or the other, they are all full of good intentions even though they are driven to commit criminal and morally reproachable acts. The consequences of their actions are heightened by cruel twists of fate, placing them on the path of their own nemesis. Vengeance is, of course, the main subject on the film. We find at least a half a dozen of that kind of actions, either successful or just attempted ones, that seldom are instigated by any sense of "justice"; they emerge only as a way of appeasing the pain and the anger, as a reparation for a similar action, whether voluntary or not. If there are those we may consider the immoral criminals, with no redemption from an exemplary punishment, they are the organ traffickers, but they have only a very secondary presence — although it is a vital one — in the complex web of payback.

Like JSA, Sympathy for Mr. Vengeance was shot with a huge aesthetical attention by its director, who judiciously composes each scope framework. The photography is also a very attentive one, with bright and contrasting colours and lenses that distort the foreground and widens field depth, interchanging with close-ups that defocus the whole field of vision to the exception of a single element we are forced to watch, sometimes for an unusually long time, as a desperate face or a supposedly friendly hand. The sound is quite a dynamic and active one often using low frequency channels to describe Ryu's silent world.

The beautiful photography and composition and the almost always still camera contribute to the sense of surrealism in some moments, especially when the most crude violence emerges, blood spattering across the screen, or when we are forced to watch an act of torture we may find truly pointless, but that it turns out to be "justified" and connected to the executioner's pain. The viewer does not have any kind of help to morally value those actions or to feel anything for the characters and the soundtrack does not provide the expected cues. We are forced to make our own judgements without any help from cinematic language, for Park's camera reveals itself as amoral, detached and thorough as a scalpel — operating just to display. Any kind of judgement is made only by our own eyes, not by the instrument.

The coldness of Sympathy for Mr. Vengeance may contribute for viewers to remain cold during the screening, but this is a film more demanding than what might be expected; meaning that it asks us more than a mere passive attitude. The characters motivations, the swiftness or harshness of each scene may easily be integrated differently by each one of us, for the film, the sound and the editing do not contribute to filter the information and suggest us what to feel or to think.

There are also some subtleties in the narrative that we may only find if watching the film very attentively or after a second viewing, for Park does not place every explanation in front of our eyes, apart from a perhaps redundant voice off at the ending, although it does not exactly explain what is happening (which is quite obvious) but rather pretends to be the echo of a previous warning.

Park Chan-uk does not refrain himself of initiating a shot with what seems to be low-level teen humour, ending up with irony so cruel and violent that we may take it as a slap in the face as punishment because we were already smiling or expecting such sense of humour in such a film. The director destroys all our expectations and forces us to continuously make our own moral judgements in view of the material he presents us.

Sympathy for Mr. Vengeance has an airtight well-structured narrative, with a trio of excellent actors, amongst whom it would be difficult to point out anyone. Song and Shin master very different roles from those that put them together in JSA and young Bae Du-na confirms once more the reason she is considered to be one of the most promising actresses in Korean cinema's new generation, adding another excellent performance to her resumé, where we may already find outstanding roles in Barking Dogs Never Bite (2000) and Take Care of My Cat (2001).