LIFFE AND ASIANS
Asian Cinema at the 17th
Ljubljana International Film Festival (LIFFe)
by Blaž Križnik
[pt]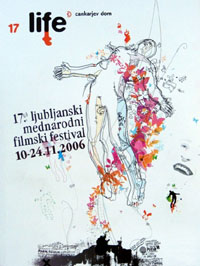 Every year for two weeks in November, the Slovene capital city of Ljubljana becomes the venue of the Ljubljana International Film Festival (LIFFe). This year the festival took place for the 17th time from November 10th to 24th. According to the FIAPF categorization, LIFFe is said to be a "decent B-category" international festival. Slovene filmgoers like to compare LIFFe with other international film festivals although direct comparison may seem a bit overstated. Although much smaller in size and importance, the programme profile of LIFFe is similar to Busan International Film Festival (PIFF) in Korea or to the Viennale in Europe. Nevertheless, on Busan film festival there were 250 films shown this year and some 170.000 tickets sold, while in Ljubljana with an over thirty times smaller population, only three times less tickets were sold.
Taking into consideration the tiny population of Ljubljana and a very small size of the domestic two-million market, 113 films shown with more than 50,000 of tickets sold is not a bad achievement for LIFFe this year. The actual number of visitors is probably much lower, since it is not unusual for the average visitor of LIFFe to see four, six or even more films during the festival.
Screenings of films were held in five cinemas around Ljubljana historic city centre, which is a welcome difference compared to usual commercial screenings, which mainly take place in big cinemaplex centres at the outskirts of the city.
Ljubljana has been Slovene national capital for centuries. The city is located at the croassroads between Alps and Mediterranean.

Five awards in four sections were awarded this year. Although the closing ceremony was a bit clumsy, it was a surprise to hear welcome greetings in Korean, which was probably due to the fact that one of the international jury members was one of PIFF programme directors and a former film producer, Korean Jay Jeon [click for interview]. The international jury, to include Ana Maria Percavassi and Marjan Strojan along with Jay Jeon, has given the main Kingfisher Award to Danish director Annette K. Olsen for her film 1:1 One to One (1:1 En til en, 2005), dealing with conflicts between immigrants and majority in Denmark, which are all too often reduced to cultural differences. Special mention in the same festival section went to German Matthias Luthard for Pingpong (Pingpong, 2006).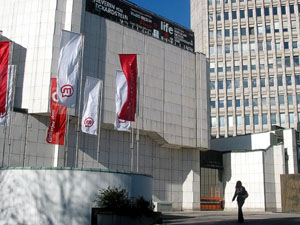 Cankarjev Dom cultural centre in Ljubljana was the main venue of the festival. (The office building behind hosts Portuguese, Korean and Japanese embassies.)

The Golden Reel Award for to the best film selected by the audience was awarded to Neil Jordan for Breakfast on Pluto (Breakfast on Pluto, 2005), a film about an Irish transvestite in England, while FIPRESCI Award of international film critics association went to White Palms (Fehér tenyér, 2006) by the Hungarian Szabolcs Hajdu. A special award by Amnesty International Slovenia for the most convincing film dealing with issues of human rights is also awarded on LIFFe. This year it went to Jafahar Panahi's Offside (Offside, 2006) for his optimistic yet critical portrayal of young Iranian girls who fancy football but are forbidden to watch the matches.

Traditionally there were always many great Asian films presented at LIFFe in different festival sections. Here we focus specifically on "Northeast Asian Cinema", which includes festival films from China, Hong Kong, Japan, South Korea and Taiwan. To make things simpler we will call films from those countries Asian (and do a small injustice to the rest of the Asian continent).


"Whot is yo function in loif?" asks a hired English hit man (Vinnie Jones) employed in Japan. "None," shoots Aman (Asano Tadanobu). "Ha... cool," hit man smiles back and offers Aman a special discount to murder his wife. Survive Style 5+ (Survive Style 5+, 2004) is a debut film of director Sekiguchi Gen and screenwriter Tada Taku, who used to produce several well acclaimed short advertising films in the past. Survive Style 5+ may in fact be seen as a two-hour "short" film, a turbo-compilation of over-saturated colours, eye-popping images, psychedelic sounds and more or less hilarious gags – everything that can be usually found in successful TV advertising. Joko (Koizumi Kyoko), another film character, who is writing awfully bizarre scenarios for TV adds, actually explains at some point how to make a film out of advertising ideas.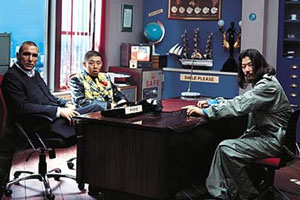 Survive Style 5+

Yet there is more than just self-irony and hyper-stylised aesthetic in this comedy of absurd. Five ridiculous stories with impossible characters, which at the beginning seem to bear little, if anything, in common, become related to and influenced by each other the more the film progresses to a truly rewarding end. The story of Mr. Kobayashi (Kanjiya Shihori) – an older family businessman, who at the beginning seems to be the only "normal" one among the film main characters, but eventually, after becoming a bird, finds himself in an impossibly absurd situation – may be the symbolic centre among the five "styles". With the help of his small son Tatsuya (Kishibe Itoku) they realize that no matter how absurd a situation may be, no one should stop looking for one's "function of loif" in order to survive.

Fast Japan in one of its more refreshing, colourful and maddest releases.


Beautiful colours and highly aesthetical surreal appearance also dominate the latest film of Miike Takashi, though his Big Bang Love, Juvenile A (46 oku nen no koi, 2006) takes a completely different pace and direction. The story of this film – its original Japanese title translates as "The Love of 4600 Million Years" – follows an emotional homoerotic relationship between two juvenile prisoners. Timid Yun (Matsuda Ryuhei) and violent Shiro (Ando Masanobu) happened to become imprisoned on the same day for the same reason – brutal murders.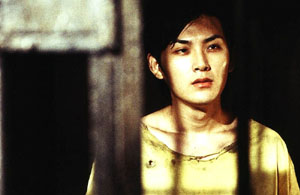 Big Bang Love, Juvenile A

At the beginning of the film we are faced with a prisoner strangling another one. While the victim is taking his last breath, the assailant cries... It's Yun. The name of the one lying dead on the floor is Shiro. Yet we soon realize that what seems to be an obvious act of murder is just a consequence of a much more complex past, which is revealed in a story that meanders from the present to the past, and back, to possible futures. A series of flashbacks and fragments of Yun and Shiro's memories are mixed with their yearnings, anxieties and tensions in the world they are imprisoned in. In the end, detectives solve the murder of Shiro, but the real resolution remains unspoken and hidden in Yun's and Shiro's relationship. Miike offers no easy way to understand his two main protagonists, yet a few times he hints that child abuse behind may be the real crime to condemn.

The prison, shown in a subtle ochre-yellow atmosphere, is the centre stage of this existentialist mystery in a quite literal sense, since many of the scenes strongly resemble a theatre play. But the prison also offers a strong metaphor of our modern life – as Miike reminds us in the final scenes. Everyone is a voluntary prisoner of the everyday.

This is a Miike Takashi film. It's difficult to remain indifferent to it.


Summer Palace (Yihe yuan, 2006) is a sensitive drama set against a backdrop of recent political and social changes in China. The main story focuses on a young couple, Yu Hong (Hao Lei) and Zhou Wei (Guo Xiaodong), who during their student years in Beijing get involved in a passionate and unpredictable relationship. It is interesting to follow how their relationship somehow echoes a broader state of mind in China of the late eighties. In their tempered love, Yu Hong and Zhou Wei seem to be as idealistic and naive as their euphoric student fellows, who are at that moment for the first time experiencing a true personal freedom and taste of political liberty. As if the film would suggest that intimate relations inevitably depend on societal one.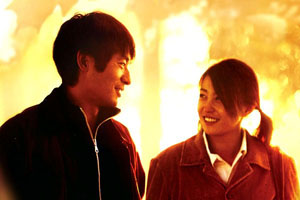 Summer Palace

When later the relationship between the two main protagonists becomes more and more obsessive, complex and even violent, we realize that personal feelings are much more difficult to resolve than the chaos around. At that point student protests for democratization also break out leading towards the tragic massacre on the Tiananmen Square. There's actually a very short original footage showing student demonstrations in Beijing, which silently, but effectively works as a strong political comment. (Because this seemingly innocent insertion was not reported to the Chinese authorities, they have recently banned director Lou Ye from future filmmaking.)

This brutal political shift also separates Yu Hong from Zhou Wei and we may see this very moment as the climax of the film. In the second part we rapidly follow how both try to overcome their changed personal and social position and fight with dissatisfaction and emotional emptiness.

Close framing and intimate portraits of the characters with an ever-moving hand-held camera are effectively contrasted with static and distant shots of cities. Each new location is introduced in an almost documentary way with its precise name and date emphasizing contradictions between one's intimate life and the surrounding social world. Peyman Yazdanian composed wonderful music which creates a touching atmosphere throughout the film. Excellent performance by Hao Lei is also memorable.


A lot has already been written about Korean The Host (Goemul, 2006) and director Bong Joon-ho. Nonetheless, it seems that opinions vary a lot. Not so much in praising or rejecting the film as such, but more in how to approach the film or what the film is mainly about. A consensus would be that The Host is a film about a monster and a family, which is also what the main plot is seemingly focusing on – the fight of the family against the monster. Following a real incident which happened on a US Army base in Seoul some years ago, the story begins with American military dumping highly toxic chemicals into the Han River. A few years later a giant squid-like mutant creature with an immense appetite appears in the Han River shore. The monster snatches a high-school girl, Hyun-seo (Go Ah-sung), the youngest member of the Park family (Song Kang-ho, Byung Hee-bong, Bae Doo-na, Park Hae-Il), which owe a convenience booth selling dried squids (!) for the Han River visitors. The Park family starts to hunt down the creature.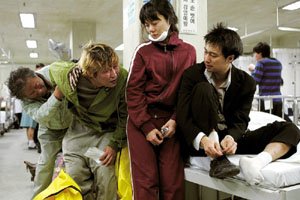 The Host

But their hunt is not just a fight against the monster. It soon becomes a fight against everyone, as the conspiring military and ineffectual bureaucracy do everything but deal with kidnapped Hyun-seo. Bong Joon-ho previous film Memories of Murder was already a comment on bureaucratic incompetence, yet here Bong goes a step further in explicitly exposing the absurdity of such thinking. While The Host still efficiently works as a horror film, it subverts its own genre, at the same time being also a brilliant family drama and social satire.

While watching The Host in Seoul, it was obvious that Korean audience enjoyed ridiculing greediness, incompetence and corruption embedded in their society. But similar reaction of Slovene audience during the festival screening came to some surprise. Not because the Slovene society would be immune to incompetence or corruption. Quite to the contrary: it was not difficult at all to reflect our own society in The Host. While there's an obvious reference to hypocrisy of US authorities, the underlying message of the film doesn't make it an anti-American movie. Bong's social and political offbeat humour seems universal enough to appeal to wider audience.

The Host is also a film about Han River. Not only because most of action takes place along the Han River banks in a dark, foggy and rainy mood and below the swirling bridges or within muddy sewerage. Bong managed to shoot an impressive portrayal of the "Hanscape", which works as a perfect film background. Byung Hee-bong is excellent as the Park family senior and so are Song Kang-ho as his son and young Go Ah-sung. Byung Hee-bong's monologue about his miserable son may be among the key moments in the film. Just like his memorable Boiler Kim in Bong's first Barking Dogs Never Bite.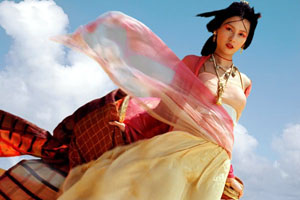 The Promise

There is no Korean film without rain, with The Host being no exception, and no Chinese film without falling cherry blossom leaves. The Promise (Wu ji, 2006) by director Chen Kaige has not only plenty of blossoming cherry trees, but also endless blooming meadows, frightening deserts, mysterious foggy forests, deep cold lakes and a forbidden palace. There are human-like gods and god-aspiring humans, mythical warriors and one truly gorgeous princess. It also has breath-taking costumes and excessive special effects (which fail behind The Host in terms of quality). What this film somehow lacks is a convincing plot, which at best centres on relations between the princess and three male protagonists.

To become rich and beautiful, a young orphan girl sells her soul to a mysterious goddess. Many years later, three warriors fight for princess Quingcheng (Cecilia Cheung), each for different reasons. General Guangming (Sanada Hiroyuki) is greedy and selfish, evil and ruthless Wuhuan (Nicholas Tse) is full of revenge, while honest Kunlun (Jang Dong-gun) is a slave yearning for truth and love. What none of them is aware of is the promise that the princess has made as a little girl. Anyone whom she loves will be doomed forever.

Yet one doesn't really expect a fully credible and logic story with complex characters from a fairytale. We like fairytales because of their magic and because we want to see the good winning over the evil. The Promise offers both. It is a magnificent visual journey and the good ultimately wins in an over-melodramatic end. As with any fairytale, it is also not too difficult to draw moral or other parallels between the imagined and the real world.

The most expensive Chinese film of all times has maybe lost its chance to become something more than a fabulous fairytale, yet it easily soaks us into a magic world blending traditional costume opera with cartoon-like imagery.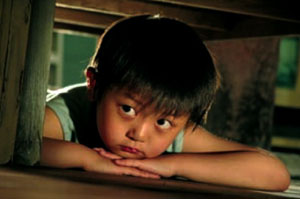 Red Little Flowers

It's almost impossible to dislike a film where the main actor is a four-year Chinese kid with the most adorable eyes of the festival. Maybe it would be more suitable for Red Little Flowers (Kan shang qu hen mei, 2006) to be described as Black Little Eyes. The story namely takes place in a kindergarten, where everything turns around little rebel Qiang (Dong Bowen), a four-year boy who makes the life of his authoritative teacher Ms. Lee (Zhao Rui) as difficult as possible. Although Qiang doesn't oppose his teacher intentionally, the consequences are always the same – at the end of the day he fails to collect any of little red flowers, which Ms. Lee awards to children for their "correct" behaviour. If red little flowers drive Qiang's actions at the beginning, his motivations become less obvious later, when he insults another, more indulgent teacher (Li Xiaofeng).

Although the story in general is not approached from kids' point of view, it is nonetheless shot from their view. The camera literary shows the world as seen by little kids. Maybe pooping, peeing or washing, which frequently appear throughout the film, seem somehow exaggerated, that's on the other hand something what life is all about when you are three or four. In his role Dong Bowen, together with his little fellows, is simply amazing and one can only wonder how has director Zhang Yuan managed to capture children's life in such a direct and authentic way.

The film is a playful and charming portrait of the little rebel, which is obviously more than a warm fairytale. Without loosing a sharp undertone Zhang Yuan has managed to set questions about socialization, normality, punishment and conformity in a world of innocent kids with a masterful sensitivity.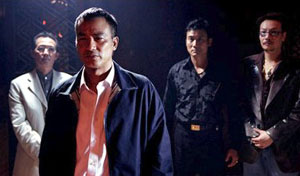 Election

For the Wo Shing Society, Hong Kong's oldest triad, the time has come to elect a new leader. Respected seniors have to choose between apparently calm and rational Lok (Simon Yam) and violent and neurotic Big D (Tony Leung), where the later goes against tradition with no hesitation in order to secure his leading position. When a decision is finally made, an old Dragon baton, the symbol of the triad's power, is stolen and a fierce hunt followed by a brutal quest for power begins.

The fact that triads, once patriotic organisations protecting the Chinese against foreign oppressors, have turned into criminal gangs interested only in money is nothing new. What distinguishes Election (Hak se wui, 2005), the latest film of veteran Hong Kong director Johnnie To, from this is a surprisingly different account on triads compared to the more conservative takes of this genre. Although many intriguing underground characters appear in the film, it is not easy to follow all their stories. Even their faces are sometimes difficult to remember as most of the action takes place in darkness. It's as if the director wants us to focus more on the triad as a whole: the triad organization as an organism. The pragmatic police superintendent (David Chiang) makes this very clear: "If you cut a triad's arm, a new one will grow." Individual protagonists are not important. What counts is their role within the organization and their mutual relationships, which are exposed through fake allegiances, frequent betrayals, brutal confrontations and imposed compromises. Nonetheless, there are some memorable individuals in the film like the old boss Uncle Teng portrayed by excellent Wong Tin-lam or Lok and Big D.

This may be the most "Asian" film at the festival in terms of its underlying theme. Although set firmly in their local social or geographical context, most other Asian films at the festival focus on either universal or very individual questions, while Election brings up a particularly Asian notion of a collective response to a clash of tradition and modernity. On the one hand there is a collective based on social trust, which apparently praises tradition above anything else. Yet on the other hand tradition can at any time easily become an instrument for individual selfish pursuits.

A masterful insight into a violent triad life. A rather shocking finale opens space for Johnnie To's next film.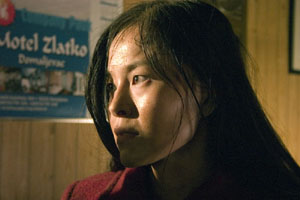 Melon Route

Although obviously not Asian by its origin, the Croatian film The Melon Route (Put Lubenica, 2005) has a lot to do with Asia. The story, based on an actual event, takes place on the border between Croatia and Bosnia and Herzegovina, where a young war veteran Mirko (Krešimir Mikić) earns money smuggling illegal immigrants over the river. Once when his overloaded boat drowns, a dozen of Chinese refugees die in water and only a young Chinese girl (Sun Mei) survives. By helping her, Mirko suddenly finds a new meaning to his ruined life and an opportunity to become part of society again. Revenge against local mafia, which sees the Chinese girl as an unwanted witness and kidnaps her, for Mirko becomes not only a fight to free the girl, but also a fight against traumas and his hopeless situation caused by the recently finished war.

This is not only a film about the Asian encounter with Europe. It should also be seen as a film about the European encounter with Europe, and an encounter with places and people who are pushed to European periphery. An encounter with Europe, unknown to or ignored by many of us, but obviously familiar to many Asian refugees or "melons", which is how local mafia calls them because of their seemingly rounded heads. That's also where the film title comes from.

Social and political themes of illegal human trafficking and of forgotten post-war Balkan situation are well combined with the intimate story of Mirko and the Chinese girl. Although the two belong to different worlds where communication between them would normally be impossible – Chinese dialogs, which in the film remain untranslated, effectively point that out – their marginal situation allows them to overcome cultural differences and build a mutual understanding.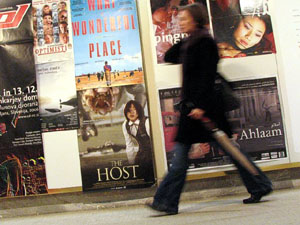 Although this year there was no special Asian section on LIFFe, some of the Asian films were well received by Slovene audience and local media.

Sublime photography of a deep lazy river and depressing rain-soaking nights create a dark atmosphere in the film. Director Branko Schmidt leaves us with little hope. A successful debut for Sun Mei, but it is Krešimir Mikić who should take main acting credits.


Other Asian films presented at the 17th Ljubljana International Film Festival were Isabella (Isabella, 2006), a melancholic drama by Pang Ho-cheung about a Hong Kong policeman and his lost daughter, Suwa Nobuhiro'sA Perfect Couple (Un couple parfait, 2005), announced as "a French bourgeois divorce drama directed by a Japanese", Three Times (Zui hao de shi guang, 2005) by Hou Hsiao-hsien, which features three love stories with the same actors questioning how emotions depend on the age one lives in, and Dam Street (Hong Yan, 2004), a touching film by director Li Yu about adolescent pregnancy and impossible friendship in a provincial Chinese town.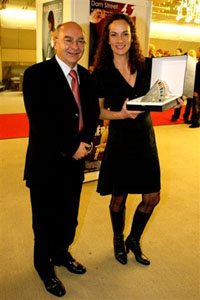 The main Kingfisher award went to Annette K. Olsen for her film 1:1 En til en. (Photo: Simon Sintič, NETPreSS)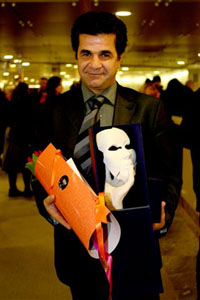 Jafahar Panahi received the Amnesty International Slovenia award for his film Offside. (Photo: Simon Sintič, NETPreSS)

Years ago there used to be special sections of Japanese, Korean and Taiwanese cinema at LIFFe. Not this year. Nevertheless, Asian films were not overlooked by the local media and film critics. Some of them like The Host, Summer Palace and Three Times for instance were recommended as "urgent-to-watch" before the opening of the festival. The result was rather obvious during screenings of the films mentioned above, which were literally sold-out.

At the end, LIFFe leaves us with a "balanced" impression about the selected Asian films in terms of their geography, topics, genre and quality. All Asian films were also already presented or awarded earlier at other film festivals, which guarantees certain security for the festival selectors. In this way organizers can be sure that selected films will be well received by the audience and enough tickets will be sold. Which is not to say that there's something terribly wrong with that. As the reviews above have hopefully shown, all Asian films at LIFFe were well worth watching.

It's just that with a less predictable selection one could have got to know other intriguing but less known Asian directors and films. In case of Korean cinema for instance, The Host was shown in Ljubljana less than four months after its initial release in Seoul, which shows us how fast films circulate across the world market these days. Limited availability is therefore no excuse to overlook a bit less known Korean and Asian film production. Only last year many great Korean films were made – think for instance of Family Ties by Kim Tae-yong or Holiday by Yang Yun-ho – and one can wonder why festival selectors ignore such films.

The festival catalogue hints that some Asian films already have local distributors, which leaves us with hope that a broader audience will soon be able to enjoy them. On the other hand, others may look forward for the next edition of LIFFe with more great films to come.

Related: Interview with juri member Jay Jeon.







4/12/06